Portable Juice & Smoothie Blender
Portable Juice & Smoothie Blender
Overview
Unique Portable Juice & Smoothie Blender with a cup and small blender inside. Allows health-conscious people to blend fruit smoothies, protein shakes, and fresh juice!
The only Portable Juice & Smoothie Blender you need to satisfy your daily cravings of fresh smoothies, milkshakes, or any blended drinks. With our portable blender, you will experience the freshest, most amazing flavors everywhere you go, because you are living in the future with our portable and USB rechargeable blender. After blending 8-12 beverages on a single charge.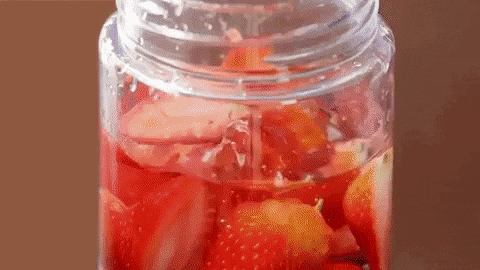 Features:
MULTI-FUNCTION: 2 functions of bottle and juicer. 2 in 1, fashionable and beautiful.
POWERFUL POWER: Load 14000rpm, quickly mix all kinds of fruits, juices, soymilk, milkshakes, rice paste.
HIGH QUALITY: Environmental protection cup cover, silica gel lifting ring, Tritan body, stainless steel blade, and ABS base are all made of top-grade materials, no chemical harm to the human body, safe to use and at ease.
EASY TO CARRY: Silicone lifting ring design allows you to take juice bottles to any place, sports, outing, outdoor, picnic.
USB CHARGING CABLE: it can be charged anytime, anywhere, no longer need to worry about the need for no electricity, good for travel.
SAFE LITHIUM BATTERY: Built-in lithium battery with UN38.3, MSDS, aviation, and transportation certificate.
INTELLIGENT SENSING: Electromagnetic induction device. After the cup body is separated from the base, it can not be started to ensure the safety of disassembly and avoid the residual danger.
How to Use:
Clean the fruit and cut it into small pieces of about 15x15mm. (for fruit with hardcore, hard material, thick skin or hard shell, please remove it first)

Put fruit in, about 60% of the cup volume, and add 20% water or milk, so that the total volume accounts for about 80% of the cup volume.

After the motor rotates, tighten the cup cover, turn over the cup body, start the switch, etc., and place it in place. When working, gently shake the juice cup to extract juice better.

After juicing, turn off the power switch, and then unscrew the cup cover for drinking. If the fruit remains too much, use a filter before drinking.
Product Details:
Type: 

Portable Juice Blender

Material: Food Grade PP, Food Grade ABS, 304 Stainless Steel

Color: Pink, White

Size: 9.21 x 3.08 x 3.08" (23.4 x 7.8 x 7.8 cm)

Capacity: 0.77lb (350ml)

Motor Speed:  Load 14000 rpm/min 

Working Current: 10-12A

Working Voltage: 3.7V

Battery Capacity: 2000mAh
Package Included:
1 *

Portable Juice & Smoothie Blender

1 *

USB Cable

1 *

User Manual
This is a LIMITED PRODUCT. Consider getting two or more.
Click ADD TO CART and buy it now! Get yours today while stocks last.
Fast Worldwide Shipping and 100% Money Back Guaranteed!
50% OFF Today Only - Order Yours Today
30 Day Returns & Refunds
Discounts for larger quantity orders