Classic Art Socks (1 Pair)
$29.99
Regular price
$14.99
Classic Art Socks (1 Pair)
$29.99
Regular price
$14.99
Overview
Amazing socks featuring some of the most famous pieces of art in the world. These include Mona Lissa, The Starry Night, The Great Wave off Kanagawa, and more! Perfect for art lovers.
If you want to have art at your feet, here it is a series of unique socks depicting some of the most worldwide renowned masterpieces by some of the biggest artists ever existed. Wear real masterpieces and always bring with you a touch of color and match them to a creative and original look or wear them under a monotone office attire to secretly unleash your most eccentric and artistic side. If you have friends who love art, you most definitely found the perfect gift, choose their favorite painting among masterpieces by Mona Lissa, The Starry Night, The Great Wave off Kanagawa, and many other famous artists and give them a gift that will surprise them and make them happy!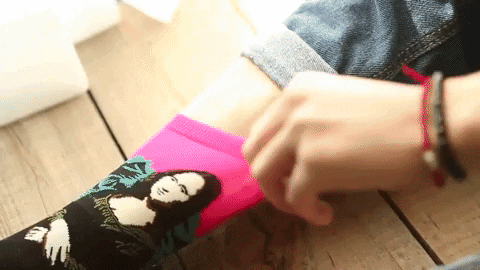 Features:
WHAT YOU NEED: Whether you're looking for a comfy pair of socks that will work all year round or you simply want to surprise your best friend with a funny gift, these low cut socks are the perfect solution!
PREMIUM QUALITY MATERIAL: These ankle socks are made from superior quality, extra-durable fabrics, a special blend of cotton, acrylic, and spandex which will keep your feet dry and allow your skin to breathe all throughout the day!
MULTIPURPOSE: Whether for outdoor activities, various sports, or in the comfort of your own home, these casual socks are a perfect choice. Mix and match them with all sorts of styles, as the fashionable, stylish design is suitable for various outfits!
UNIVERSAL SIZE: These animal printing socks are highly elastic and are made to ensure a perfect fit. The socks are providing a comfortable wearing experience for every season!
ORIGINAL GIFT: Order this convenient sock set for yourself or as a thoughtful gift for a friend or relative, and you can be sure to win their appreciation. The artistic themed design comes with vivid colors and favorite painting!
Product Details:
Type: Socks
Material: 

80% cotton/15% acrylic/5% spandex

Color: Starry Night, Mona Lisa, Van Gogh, Art socks
Thickness: Standard
Package Included:
1 x Classic Art Socks (1 Pair)
This is a LIMITED PRODUCT. Consider getting two or more.
Click ADD TO CART and buy it now! Get yours today while stocks last.
Fast Worldwide Shipping and 100% Money Back Guaranteed!
50% OFF Today Only - Order Yours Today
30 Day Returns & Refunds
Discounts for larger quantity orders