Body - Kun - Models for Artists
$89.99
Regular price
$44.99
Body - Kun - Models for Artists
$89.99
Regular price
$44.99
Overview
Body Kun models help artists draw human characters better! These artistic models help them draw any character they can think of.
An artist constantly tries to expand its creativity. No matter how great you are at your artwork, there is still scope to grow. Creativity has no ends. In the modern era, artists spend a lot of time looking for reference poses and reference pictures for a new amusing art project. In this case, you don't need to spend your time looking for a figure for drawing. Bodykun and body-Chun are the best artist figures for life drawings.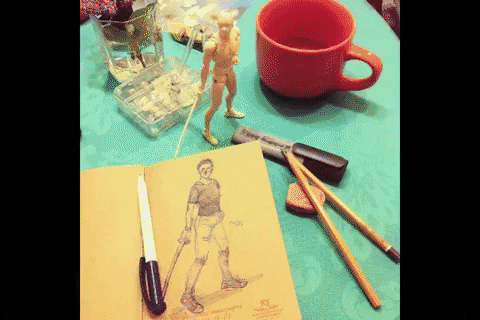 Features:
TIMESAVERS: Stop draining time online looking for poses of reference. You won't even attain what you need most utmost of the time, and you'll have to resolve for something that looks "close enough." The articulated figures of the body-Kun and body chan can accommodate you with the best figure poses. These drawing models seem incredibly genuine and they're of great help whenever you demand a quick reference for painting life models.
HIGHLY REALISTIC: Overlook about those early wooden mannequins that are potent and not possible. And let's not mention all the other disturbing, overpriced artist designs out there. Not only do the Body-Kun and Body-chan seem magnificent, but they also serve their mission exceptionally great, and that purpose is to supply you the definite reference poses you expect. With added 30 points of articulation, the possibilities are endless. Even their toes are linked!
FOCUS ON YOUR ART: Spend less time looking for a reference figure posing drawing and occupying yourself, and spend more time focusing on your original idea. Rebel that poses, and begins the sketch!
What type of artist are you?
I'm an Illustrator, painter: The Body-Kun can get it, no matter the pose you need. Sum diversity and enthusiasm to your drawing bodies by making peculiar use of the included display stand and creating all sorts of stunning poses that you wouldn't be able to attain amidst other artists drawing.
I'm a beginner and want to improve: Body-Kun is very helpful to beginners and new artists. You require to learn how to draw from observation before you can draw from imagination. It suggests practicing again and again and again. Thanks to these drawing figures for beginners, you'll be ready to make the practicing part of the drawing, entertaining and enjoyable! You need to make sure you don't get too preoccupied and end up spending all of your time posing instead of drawing models!
I'm a photographer: Put your Body-Kun and Body-Chan figures in all sorts of plots and locations and make beautiful stories. Work with the perspectives and lights, and create some breathtaking artistic headshots.
I'm a story-boarder: Because they are so simple to pose and they look so realistic, they're pretty helpful when making story threads. The display stand that is included lets you discover an endless amount of poses and lets you create fantastic story threads.
I'm a sculptor: The body Kun's dimensions are very realistic. Making decent use of this figure will encourage artisans to find inspiration for their work. Try out new postures, see which you like, and start cool sculpting.
I'm a fashion designer: You elect your fashion sketchbook with all kinds of interesting poses! Drawing silhouettes and fashion poses with Body-chan was never more so easy. She can replicate each of the patterns that you throw at her.
I make films and shots: The Body-Kun is perfect for stop-motion. You can make some unbelievable scenes with a little patience and innovation
For photography/animation: Many of our clients buy these figures for their experiences in photography and films. They query fun and exciting new ideas. It is extremely fun to pose Body-Kun and Body-chan, because of how direct their poses seem. The only end in modeling them is your thought. These figures are excellent for photography stop-motion and animation purposes, too.
Product Details:
Type: Models for Artists

Material: PVC

Size: About 5.2 - 5.91" (13-15 cm)

Style: Male/Female

Version: Second Generation(2.0)
Package Included:
1 *

Body - Kun - Models for Artists
This is a LIMITED PRODUCT. Consider getting two or more.
Click ADD TO CART and buy it now! Get yours today while stocks last.
Fast Worldwide Shipping and 100% Money Back Guaranteed!
50% OFF Today Only - Order Yours Today
30 Day Returns & Refunds
Discounts for larger quantity orders