Men's Modern Grooming Set (15 pcs.)
Men's Modern Grooming Set (15 pcs.)
Overview
Modern-looking men's grooming set complete with everything a man needs to look their best. Perfect for the home or traveling to business meetings!
The Men's Modern Grooming Set (15 pcs.) Manicure Set & Pedicure Set has all the tools you need to make professional manicure and pedicure. Small size and light weight make it convenient to carry, great for travel and daily life! Each tool is manufactured by the careful process of cutting to make sure it can be used more comfortably. It is very practical, it is a great gift for yourself, families and friends!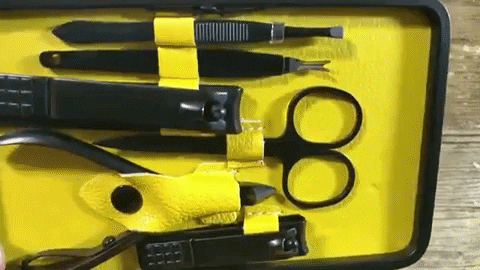 Features:
WHOLE NEW LOOK: End of the traditional style of Manicure Set, upgrading from the inside out, the exterior which is made of black rhombus PU leather looks very special and be full of mystery, lichee pattern leather lining has a strong texture,internal stitches is very neat and artistic, all tools use a cool black hot-dip technology, not only exquisite and luxurious but unique in appearance, you will fondle admiringly when you see it.
QUALITY UPGRADING: All tools are made of premium stainless steel, great hardness and durable,the edge of each has been polished repeatedly to have a comfort grip, the blade can keep sharp for 10 years after a repetitive polishing and hardening process, give you a smooth and cleaning cutting
FULLY FUNCTIONED: The function of most manicure set is centered on trimming nails, and our set has a variety of functions including hand care, foot care, and facial treatment, each tool is elaborately made and can meet your all kinds of care needs in daily life, one set in the hand, living at ease.
PORTABLE SIZE: Do you want to own a manicure set that doesn't occupy space when you travel or at home? It is designed with a portable size, you can put it anywhere you want, such as a handbag, car, luggage, office and so on, great for travel or at home.
Product Details:
Type: Manicure Pedicure Tool Set

Color: Black

Material: Stainless Steel, PU Leather

Design: Non-Slip, Black

Size: 4.05'' x 6.18'' (10.3 x 15.7 cm)

Weight: 0.71lb (322g)
Package Included:
2 * Nail Clippers: Trim fingernails

1 * Large Nail Clipper: Trim hard and thick toenails

1 * Cuticle Nipper: Trim cuticles

1 * Nail File: Make nails rounded, smooth

1 * Dead Skin Fork: Trim surface, agnail, callus, dead skin, etc

1 * Tweezer: pluck eyebrow and ingrown hairs

1 * Scissors: trim eyebrow

1 * Cuspidal/Obtuse push-type broach: trim nail keratin and scrape nail polish

1 * Nail Cleaning Knife: Cleaning dirt in nails

1 * Ear Pick: Ear cleaning

1 * Acne needle: Blackhead/Acne removing

1 * Flat Callus Remover: Cleaning dead skin on the foot

1 * Oblique Callus Remover: Cleaning dead skin on the foot

1 * Zigzag Callus Remover: Cleaning dead skin on the foot
This is a LIMITED PRODUCT. Consider getting two or more.
Click ADD TO CART and buy it now! Get yours today while stocks last.
Fast Worldwide Shipping and 100% Money Back Guaranteed!
50% OFF Today Only - Order Yours Today
30 Day Returns & Refunds
Discounts for larger quantity orders